Movavi Video Editor for Mac Review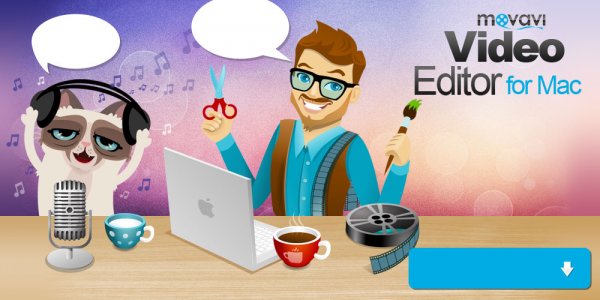 For years now Macs have been renowned for their capabilities when it comes to handling and editing videos. Everything about the design of the Mac is tailored towards that, from its powerful graphics capabilities to its amazing high definition screens. All that you need however is a video editor – and that is where the Movavi Video Editor for Mac comes into play.
Not only will the Movavi Video Editor for Mac take advantage of the unique features of your Mac, but it will also couple them with a unique and intuitive approach of its own. Rather than leaving you to meander around dense and complicated menus, this is a video editor that simplifies video editing and makes it accessible – even to those who have absolutely no experience.
While all of its features are extremely user-friendly and easy to use however, it does not sacrifice any of its effectiveness – and has a strong selection of powerful features that can be brought to bear. Long story short, the Movavi Video Editor for Mac has everything you would need to create a professional-looking video – such as:
Cut footage to delete unnecessary video segments, split videos into parts, or even merge video clips together.
Enhance the video quality and fix most common problems either manually or even automatically with a single click.
Insert animated transitions to jazz up your video and give it some style.
Add audio for background music or a voiceover by dragging and dropping it where required.
Hundreds of presets to optimize your video for the platform or device that you're using.
Whether you're looking to create a professional business presentation, a unique video guide, or even a video slideshow to show off to your friends and family – you can do all that, and more. The best part is that the video you create will have enough polish to really stand out and get noticed, and many may even think that it was professionally produced.
As far as video editing software for Mac is concerned, the Movavi Video Editor for Mac's pairing of user-friendliness with powerful features is tough to match. The best way to see just how potent a combination it is however would be to try it out for yourself. In a matter of minutes you'll probably be able to jump straight in and start to edit your videos to perfection, and soon after that you can show them off too.